DW: Last year, these days dedicated to Romanian film were unfortunately not like many other festivals and cultural events. We are finally slowly emerging from lockdown and resuming our cultural life. How was this festival born every year in the Bavarian capital?
Brigitte Drutloff: This year we organized the 14th Romanian Film Festival, practically resuming the version that was supposed to take place in 2020 and we hope that in the fall, maybe in November, we can present to film lovers in Munich and the 15th version . We have been organizing Romanian Culture Days since 1999, and since 2004 we have created the Association for the Promotion of Romanian Culture and Traditions, GeFoRum, so that we can hold more inclusive events. We want to show that Romania is more than is presented here in the press, that it has a very ancient and rich culture, that it has important ethnic diversity. As we know, unfortunately the negative aspects related to Romania appear in the press. That is why I have been working for many years to show that Romania should not be reduced to the way the press is often reflected, in order to present a good picture of Romania, a country with great culture.
This is not to say that there are no negative parts, but there are a lot of positive aspects, especially cultural, that are worth promoting…
I think that the role of culture for a better knowledge of the country is very important, which is why I chose the slogan: "Culture is the most beautiful bridge between two countries." You understand the country better, and you know its people better through culture. In 2006 we started to organize the Romanian Film Festival which became the most important festival of its kind outside Romania not only in Germany but in the world. Anyway, I'm a huge fan of Roman movies, which always seem to reinvent themselves. We have outstanding artists – screenwriters, directors, actors …
How can you make so many new movies? Except for one, all the movies you're offering right now are from 2020.
We have a very good relationship with CNC, the National Center for Cinematography in Bucharest, which supports us every year. Then there is the Filmmuseum München, an institution with a long tradition and very good experts, interested in Roman film. They also speak to Romanian filmmakers. This is how we manage to get very good, up-to-date films. We always include at least one historical movie in the program. We do the selection with the films at the Filmmuseum, to look for films that have an impact on the German audience and are as different as possible. We want to offer a rich collection of Romanian films. Personally, I've been trying to get films made by women for a few years now. What we do every year – unfortunately not this year – is to present awards in different categories, for example for directing or acting, and finally give an award to the audience. The audience, and we have a very large audience, receive the questionnaires that they complete and on the basis of which we base the winning film. We have sponsors who are very attached to the festival, support us, in addition to the presence of the Film Museum, the city of Munich, CNC, ICR, the Romanian Consulate in the Bavarian capital …
In choosing movies, we always follow a red thread.
What is the red thread this year?
The red thread this year is freedom. We want to show how important culture is in people's lives, especially in very difficult situations, such as the present.
Due to the pandemic, this time the festival is taking place in a smaller format, apart from the opening film, online. The advantage is that in this way Romanian productions can be viewed by a much larger audience than the one interested in Munich.
Yes, not only at certain hours, but non-stop all the time until Sunday 20 June, at midnight, for free. Details can be found at: http://wp.ge-fo-rum.de/filmfestival-2020-21/
How important culture is to us, or in other words, how bad we are without culture, has been fully seen in this period of epidemic, when cultural life has been virtually frozen for a long time. Yet, when we feel the joy of gradual relaxation, we do not know what awaits us in the coming months, especially in the fall, how long we will enjoy returning, to some extent, to normalcy. What does this period mean to you as an artist?
It was a very sad and difficult period. Without culture we cannot exist. No music, no movies, no stories, no communication, no exchange of ideas… that's what distinguishes us as human beings. Of course, you can also listen to music at home, but it is completely different when sharing experiences and feelings with others when communicating. When you rock with others during a show, concert or movie screenings. It's true that we watched a lot of movies on Netflix or other online channels, for example, and that was fine. But at some point you need to communicate. A person cannot live in isolation. Culture is essential to me, it's food. Just as the body needs food, so the soul needs culture. I hope the current relaxation continues. As for me, as a screenwriter I can, of course, work at home, but I do not write a novel and without communication with the team, without dialogue, without exchanging ideas, you develop a film differently. In addition, I am a freelance artist and did not receive any financial support. It was a sad and difficult period and I hope it will end soon.
In fact, I studied acting in Romania, and only after that I focused on directing and screenwriting.
Yeah. She attended the German High School in Bucharest, after which she entered the IATC, where she studied acting at the German section. The German department also did not have orientation courses. Anyway, I picked up the last year of this German section. I was fortunate to have an exceptional teacher, Petrică Vasilescu, from whom I learned more than just acting. I also had the opportunity to attend classmates for directing. In 1983 I went to Germany and it took me a while to get used to it and integrate. I still have a great career. I did not practice acting, and instead set up one of the first videotaping agencies, as it was then called, in Germany, which was very successful, with offices in Los Angeles, Milan, Paris and London. I traveled a lot and lived a mundane life of jet planes.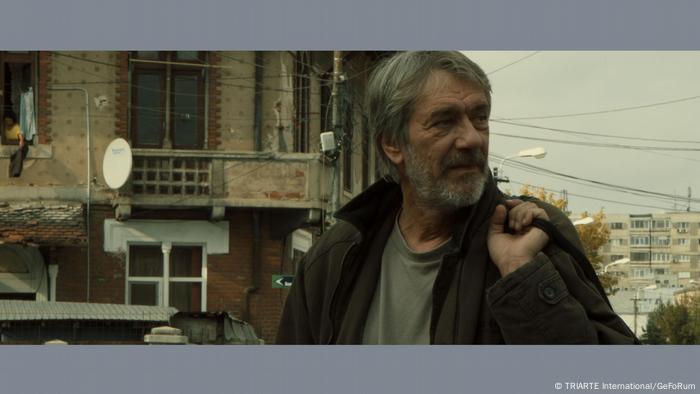 Marcel Eurich in the short film "The Man"
But later, since that was what interested me the most, I focused on the scenarios. She has written a lot for German television, including serial scripts for the film Bavaria. I also resumed my work in the theater and worked as a director in the German section of the National Theater "Radu Stanca" in Sibiu, and also made a short film with Marcel Urich "The Man", which also won several international awards. I went to Romania quite often, somehow I think my soul stayed there. That is why I am constantly trying to build bridges, as I said before, between the two cultures, and to organize Roman cultural events in Germany.
She struggled for nearly three years to produce a movie dedicated to Queen Maria, "Maria, Queen of Romania," which was a huge hit with the audience. It was proof that it was worth fighting for. Everyone was telling me that historical films were no longer successful in Romania. She also worked on the ProTV series "Vlad". In the terrible summer of last year, when nothing was moving, I was fortunate enough to have friends who helped me make an independent film in Germany, "Los (ge) lassen" ("Let Go"), a comedy-drama about six completely different women. At home, the film, which I just finished, will now be shown in various festivals and then made available to the general public.
And in the near future?
I have several projects that I am working on – in different series, then I have a new film project with Marcel Yurich, this time a feature film. I am looking for funding… There are still many uncertainties about cultural life in the context of the pandemic. How will things develop? Nothing is certain.
We are talking after your return from Berlin, where the second stage of the International Berlinale was held, a festival in which Romanian director Radu Jude won the grand prize, the Golden Bear, for his feature film. "Bubble with anarchy or slut porn". What are your impressions of the Berlinale?
It is a nice. I am very proud of the continued success of Romanian film at the international level. Romanians somehow, although they don't have the money, make massive, outstanding films at international festivals. However, I think that in order for it to be seen by a much wider audience, all over the world, it needs to be promoted more aggressively.
I also went to Berlin because I am a member of the presidency of the Federation of German Scriptwriters (VDD) and got an award for screenwriting. The Berlinale was not what it had been in previous years, it lacked the usual atmosphere, crowd, emotions, communication, and energy normally generated when watching a movie with so many others. It was a mixed festival, but it is very important that it is done. The number of spectators in the hall was extremely low. The same thing happened to us with the Romanian Film Festival in Munich. She gave the first film in the hall and only a very small number of the audience were allowed. It is very sad. On the other hand, you can read on the faces of those in the room, though we were all wearing masks, the joy of finally being together again, of being at the cinema again. I really hope the vents keep going and that we don't end up in a closed position again. It seems to me the most important thing now. Let's not forget the importance of culture in our lives.
The interview was conducted by Medana Weident.