And the neighborhoods in Bucharest are worth seeing and listening, not just the old city and the main arteries, I think Sorana Gration And Anna Maria Toma. And while talking about it with their friends, who also invited them through Obor or FAUR, the idea for the project came to them. neighborhood stories. that it One of 33 projects selected to transform the city and bring art closer to its residents under the Bucharest Re:Imagine Program – scholarships for ideas for cultural projects organized by Capital City Hall through ARCUB.
In terms of the city's public transport network, with very frequent stops, I've found that it can become a container for some Date. It's impossible not to have a story near any STB station in town. Anna says that those who are on their way wait at least a few minutes for the bus or tram, and their eyes will inevitably be kept on a screen like this.
Their project involves placing large posters with stories about the city at public transit stations. The posters will feature a work by a visual artist, starting with the area where the station is located, a very short story about the place, written by a prose writer, and a QR code that sends the reader into the story fully read by an actor, writer, or television and media professionals. These stories will be integrated into a digital application with the map of these stations. How will they implement these ideas and what is their relationship to the neighborhoods in Bucharest, Sorana and Anna Maria go on to recount:
idea
Sorana: I and I also have many friends and acquaintances who have grown up in Bucharest – both resident and temporary. Our constant surprise is that a lot of the residents don't actually go out into the city, and don't know where it is, even though they've lived here for a long time. Most visitors move between the ancient and Roman centers. Some of them are fascinated by 'Life in Bucharest' – which I only see at the level of the old centre, others complain that Bucharest excites them – as I have been. Basically, residents or visitors actually live in a bubble that can be made anywhere in the world.
I say to many: "My dears, when you come here, you have to walk through Obor or go to the memorial houses in Minolescu and Rebrino." Those who come quietly fall into my trap, but most stay in Zone 0.
Talking about it with Anna over coffee on the phone, we woke up saying, "Well, how nice it is for other people to see and feel all these wonderful places, just like us." That was before the ARCUB Ideas Competition. Basically, the contest came as a glove on our idea.
I: We have often thought that places in Bucharest can be listed in a "eye-catching" way. Then in terms of the city's public transport network, with very frequent stops, I found it could become a container for some Date. It's impossible not to have a story near any STB station in town. Those on the way wait at least a few minutes for the bus or tram, and their eyes will inevitably be kept on a screen like this one.
What seemed important to us was that stories should not be confined to historical ones, but should go further, toward contemporary, toward stories that were even formed. yesterday. Another important aspect was expansion. What we found interesting was not central at all. The area of ​​FAUR, for example, is almost unknown to the people of Bucharest. We wanted to d . storiesin the neighborhood.
a task
I: The ARCUB Ideas Competition helped us to better define the idea, in a concept with multiple directions/goals.
First of all, we want residents to know their city better. in all its corners. Secondly, in order for the story on the STB to attract attention, it must be accompanied by visual and audio elements.
Since we wanted the stories to be up-to-date, we thought of providing a public exhibition space for those who contribute to the cultural identity of the living space. Visual artists, writers and narrators take inspiration from and represent the city while at the same time becoming a part of urban stories.

poster example
realization
I: The first step is to define the 'canopy with many trusses' that will be implemented under it. As it is a project that can be extended both horizontally and vertically, there is a need for a department that already has such large projects in its portfolio.
Then, the hardest part, in our opinion, will be documenting goals with stories. Even if we initially limited ourselves to a few dozen, we would need the support of museums, archives, the Department of Academic Research, etc., in order to "map" the goals. In the sea, we have the targeted neighborhoods at the beginning, such as: Gara de Nord – Matash Square (Sector 1), Obor Square (Sector 2), Uranus (Sector 5).
Sorana: At the same time, visual artists who will explain the goal, prose writers who will write stories and narrators who will tell them about the audio format will be selected.
Then there will be a longer period for the above to complete the work and at the same time the developers will work on the application that will complete everything, including the audio stories.
We're thinking that in the end, we're going to make a fairway/opening of the venues with shows, curated, with biscuits and wine, as it should be.
Why just neighborhood stories
I: During the 13 years I have been in Bucharest, in the Budapest region, in Berciny, Obor, Chipret Square, and in Neu Domroya Bucharest, I have lived. I was always looking for information (historical or current) about my area or neighborhood, sometimes with the certainty that I might be able to find some landmarks and connections between what once happened in that space – or what it currently offers me – and the ways that got me To there (and nowhere else).
In other European capitals, you can learn some basic things about the cultural identity of the place you are in from among the few lines tastefully displayed at every mouth of the subway, or on the street corner, with the opportunity to find yourself in the story of that space, to get to know it to the extent that you can Decide if you want to get to know him more closely or live with him. In Bucharest, there is little such information displayed in public and most of the time it is placed haphazardly or left to rot. I don't think it's enough to have a map (in the meantime subverted) with "You're here" if this HERE doesn't tell you a story.
Sorana: I used to come to Bucharest very rarely, usually on a business trip, and I obviously don't understand any of it anymore, the traffic, the agitation, the rush. I was tired. Then I once brought a friend – also a girl, who moved here about 10 years ago – to stay for a week. No action this time. During the day I walked the streets, and in the evening I went to the theater, the book launch party. One day when I was walking on Ferdinand, I put my nose into a very cold gate to see the courtyard. There was a lady in the yard who seemed to take care of the house. I spoke for about an hour. Tell me about homeowners and their generations, and about zodiacs, reptiles, and African chocolatiers.
When I left, I realized that I met Bucharest for the first time. This is when my internal GPS was activated. I was no longer afraid of the city, I could have done much better with transportation, I felt where I was and where I should go.
It's like having a co-worker with whom you have a friendly relationship with the coffee machine in the hallway, which you suddenly pick up at home, making pancakes in your sweatpants.
Now I live in Vitan, but whenever I can, I do the same walking. For example, while wandering the Dristor, I found a "sanctuary" on Camil Ressu Boulevard that amuses me.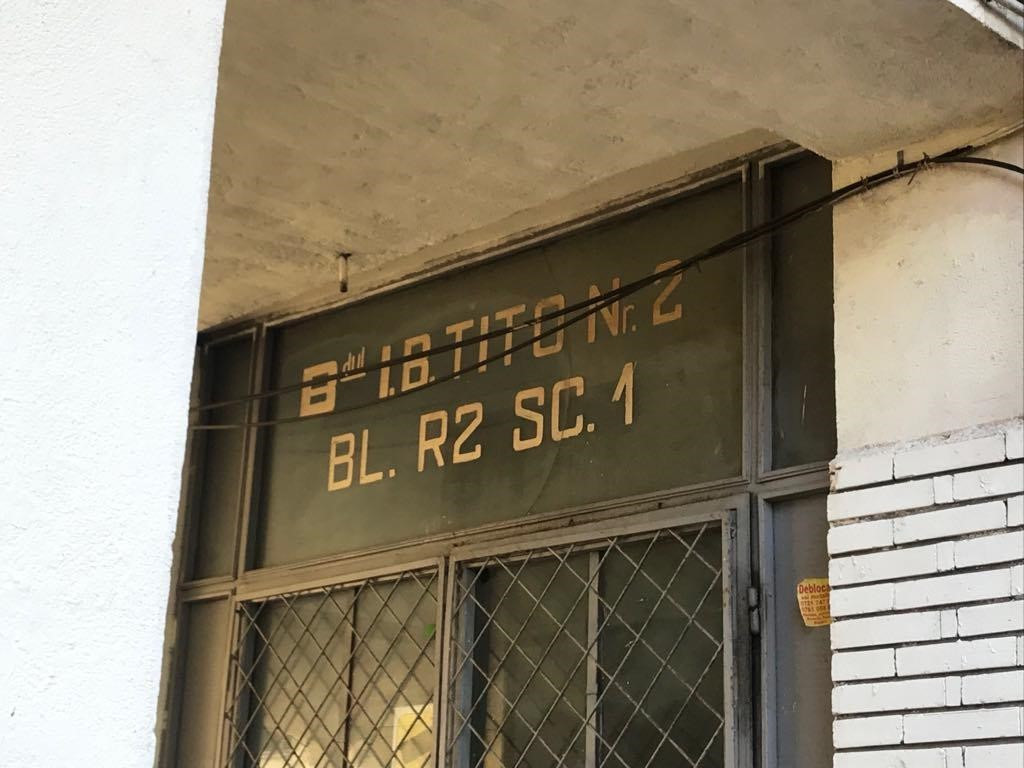 Ru's cultural sphere: discussion topics, topics, obsessions
I: Unfortunately, the cultural field of the past few years seems, on the inside, to be somewhat broken. We know that a lot of projects have been taken over and configured for online content only or remain, at best, in Suspension. Those who managed to hack tried everything through the book, including from the perspective of security measures, to implement or even invent new possibilities to attract and retain an audience. The themes inevitably deal with the recent events and drama of the present or, conversely, attempt to provide a temporary (and illusory) exit context. Public obsession: fundraising and event organization with physical attendance and the restoration of the public.
The new wave of artists. What surprised you
I: I don't know if we can talk about a new artistic wave in each new pandemic wave. Recent trends have come with NFTs :), with art that must necessarily be "sold", to increase that "share". With art in improbable spaces, with more multimedia, with more recycling, with discourses about sexual identity, with broader expressions of the work itself. It remains to be seen to what extent the exclusive traditional techniques, if we go back to essentially tactile or synesthesia art, and by the same token, will disappear (again) the 'don't touch' barrier, given the fact that I could not Viewed only from a long distance. What surprises me? The presence and place of art in the public space is still problematic in our country.
Effects of the epidemic
Sorana: A very good outcome of this crisis has been an increase in accessibility due to the online environment our lives have experienced – from events to shopping. People attended much more shows, classes, book launches, etc., because they could watch it even from Canada. This good habit has been maintained by many, through live broadcasts of events that occur physically, which contributes greatly to the reputation of the creators of culture and not only.
What made it worse? the fear. public. But this can also be a plus, because we feel we can live more life in the present.
The new relationship between people and art
Sorana: If you also refer to the past two years, I think that in terms of expression (artists, writers, musicians, etc.), the last two years have brought a great hunger for living expression. lack of audience in play Many had pieces of artistic expression. On the other hand, I noticed a desire to absorb artistic expression from the audience. It occurred to me that after the pandemic we might find it difficult to return to artistic life, but that is not the case. Unrestricted first events are sold out, regardless of domain. I think people feel differently about its value.
I: Although many independent organizations or institutions attempt to highlight events based on cultural intervention and restore that diverse local artistic community, I have repeatedly found, with regret and astonishment, that a large part of the public remains indifferent, if not alone, to certain segments Unfamiliar to him or not expected to meet her in a place other than a designated event or place.
For example, audiences gather for concerts or performances at an exhibition that – obviously – exhibits works of art or (even) books that do not seem to be aware of the existence of other "cultural goods", spectators ignore the play of the book from which the script began and which awaits them when they leave the auditorium display, etc. I think we should try to fix these differences because most art forms, after all, cannot exist (or are intrinsically unimaginable) without each other.