Mirella Tristaro He declared that he envisioned his exhibition as "a declaration of independence from the taboos and prejudices of contemporary cultural society".
"It opened on my birthday. I turned 50 on May 3rd. AndI consider myself worthy of a special exhibition that I do as I please. With many people and with all my dear friends from home and abroad.
They were all used to showing paintings. This time, I surprised them: It was more of a video mapping gallery. There were 17 video projectors on which sequences, animations, paintings, installations, and interviews were made. There were only two panels at the entrance, live music and a party after…', explained Mirela Trăistaru to Bistrițeanul.ro.
The ceremony was also attended by the former president of the ICR, Radu Boroianu, as well as the Minister of Culture, Lucian Romașcanu.
About the Mirella Trostaro exhibition, critic Pavel Shugari stated:It may seem strange, but the artist's artistic vision is much closer to the deep and epic world of Liviu Rebreanu. At an astronomical distance from the experiences of our artistic age, hesitating between propaganda chatter and scams of expression.
But despite this realistic background, Mirella Tristaro is undoubtedly a contemporary artist. This means that the message is problematic, suggests situations, explores both the individual and species memory in general and recycles them.
Its repertoire of forms, from the paradisiacal landscape, lush and sensual, to the morphology and the decoration of the pedestal, which poses no problem in reading and recognition, is multiplied by the integrative position, the organic understanding of our symbolic existence, without any crack at the level of space and time.
Its contemporaneity consists, on the one hand, in the continuity of consciousness and the reactivation of memory. On the other hand, in meditation on the human condition as a collective and unifying experience. What at first glance seems familiar and easy to recognize turns, through the wideness of the eyes and the intensity of experience, into a great experience to know and recognize our unrepeatable nature.".
Mirella Tristaro was born on May 3, 1972 in Bistrita. He attended the courses of the University of Art and Design of Cluj-Napoca, Department of Clothing Design and Painting. He received his master's degree from the National University of Arts in Bucharest. He defended his Ph.D. on the subject "Painting on the body, from ancient rituals to contemporary art" at the University of West Timisoara.
Mirela Trăistaru has opened more than 70 solo exhibitions in Romania, the United States, Switzerland, the Netherlands, Austria, India, South Korea and Egypt.
She was invited to participate in more than 150 group exhibitions, where she gave dozens of body painting performances.
Mirella Tristaro He made costumes and sets for important shows, with famous directors such as Alexandro Tosilescu, Ion Lucian, Chris Simeon or Gillo Kolsig. He made costumes for the theatrical "Study Woman" for Moliere, which was shown at the National Theatre, as well as for the film "Epicenter". He has worked on plays with Ştefan Iordache, Cornel Vulpe, Sebastian Papaiani, Ioana Bulcă and Alexandru Repan. In addition to scenography, sets, costumes, and body painting, he organizes fashion and arts shows, and is also a graphic designer and curator.
She was included in one of the Top of Capital Magazine – 100 Most Valuable Romanian Painters.
Despite this impressive record, Mirela Trăistaru has not exhibited in Bistrita for more than 15 years, having been excluded for years from group exhibitions of Bistrita artists. She stubbornly submitted and proposed dozens of projects, but so far they have been ignored.
Fortunately, the people of Bistrita will have the opportunity to meet her on May 25, at the Provincial Museum in Bistrita. Here the artist will open an exhibition inspired by her ancestors from Nepos.
Some of the artifacts on display at the Museum of the Roman Peasant will also arrive in Bistrita.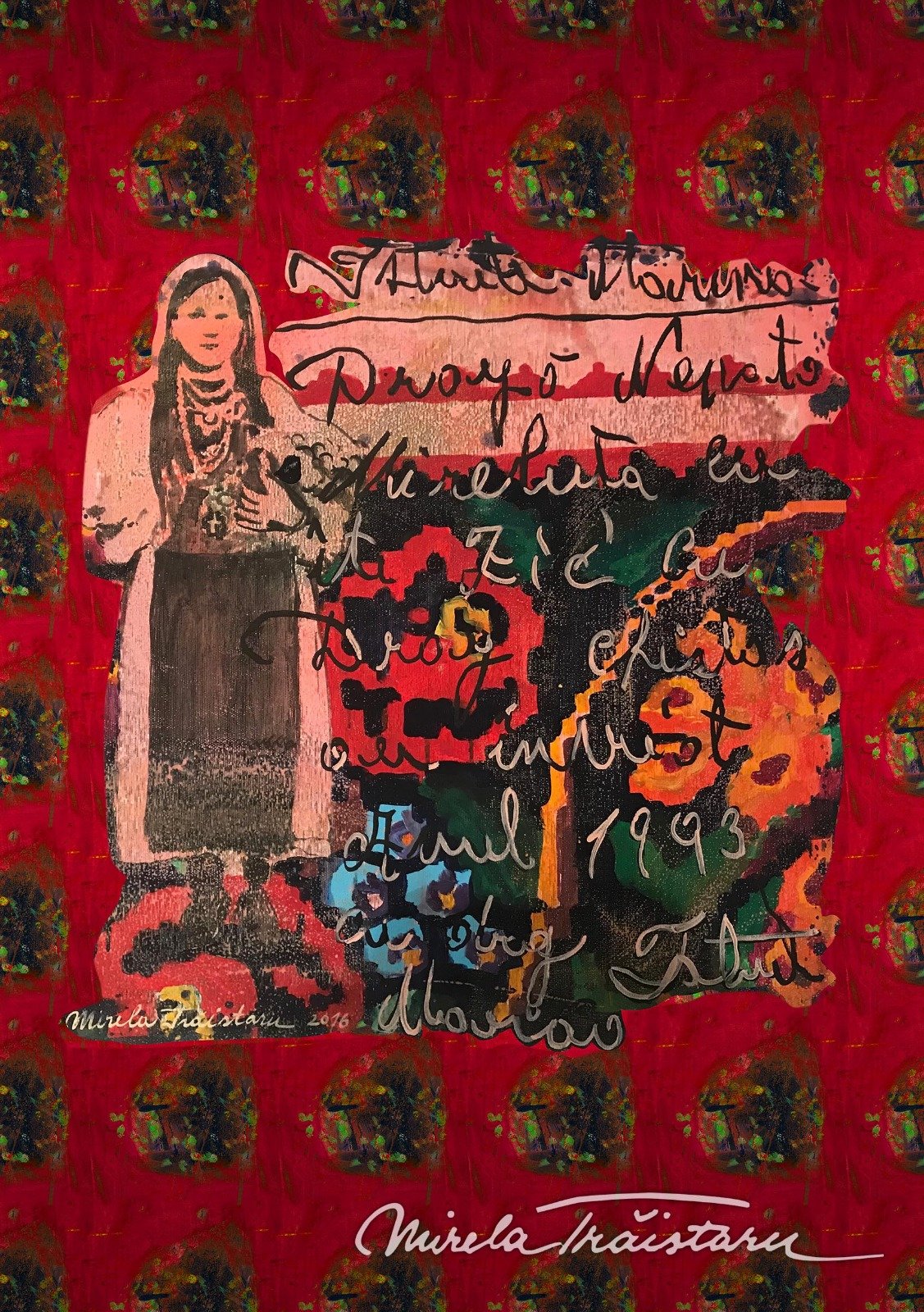 I also read about Mirela Trăistaru at Bistrițeanul.ro on the occasion of an extensive project of artistic documentation and celebration of national memory of the last century. The artist held an exhibition in which she reinterpreted the stories of her ancestors. It was about 100 paintings, installations with grandmother's war weaves and family portraits. The exhibition included paintings inspired by the national ports of Nesaud and Horezo:
Nepos: Mirella Triestaro. The love of places in the project "Century .. Story .. Legacy"
Photo @Mirela Traistaru