The 34th edition of the Turin International Book Fair will take place from May 19-23, 2022. The theme for this year's edition is Wild Hearts / Wild Hearts. The Romanian Cultural Institute, through the National Book Center, the Romanian Institute for Culture and Human Research in Venice and the Accademia di Romagna in Rome, organizes our country's participation in the most important personal event in Italy with a national position entitled Romania: Il coraggio de fer literature… / Romania: Courage to make literature….
The Romania Pavilion, with an area of ​​40 square metres, was created in partnership with the organizers of the Turin International Book Fair, according to a concept inspired by the main theme of this year's edition. With this in mind and bearing in mind the current international context, Accademia di Romania in Rome, together with its partners, has proposed an engaging graphic that conveys a message of tonic and upbeat by writing the word courage in several internationally spoken languages. Throughout the exhibition, a series of Romanian literary events will be organized both in the Roman amphitheater and in some exhibition halls aimed at promoting the volumes of Romanian writers published by Italian publishers in recent years.
The Romanian Pavilion, located at Pavilion 1 B44 – C43, will include: a bookstore space, organized with the support of the Libris Library in Braشوفov and a small literary salon dedicated to this year's Romanian literary performances. During the five days, in the Roman Pavilion, the Azzurra Hall and the Indaco Hall within the exhibition, events will be organized with the aim of strengthening bilateral relations in the field of literature, translation and editorial policies. It also aims to stimulate the interest of specialists, publishers and translators in Romanian literature in its broadest sense, to establish direct contacts between guest writers and the general public, as well as to maintain the connection of Romanian society with the cultural values ​​of the country of origin.
About thirty guests, Romanian and Italian, from different fields, are representatives of the event profile: Romanian writers and writers, translators of Romanian literature into Italian, historians, journalists, literary critics, representatives of Italian publishing houses (the program of literary events is in the photos below).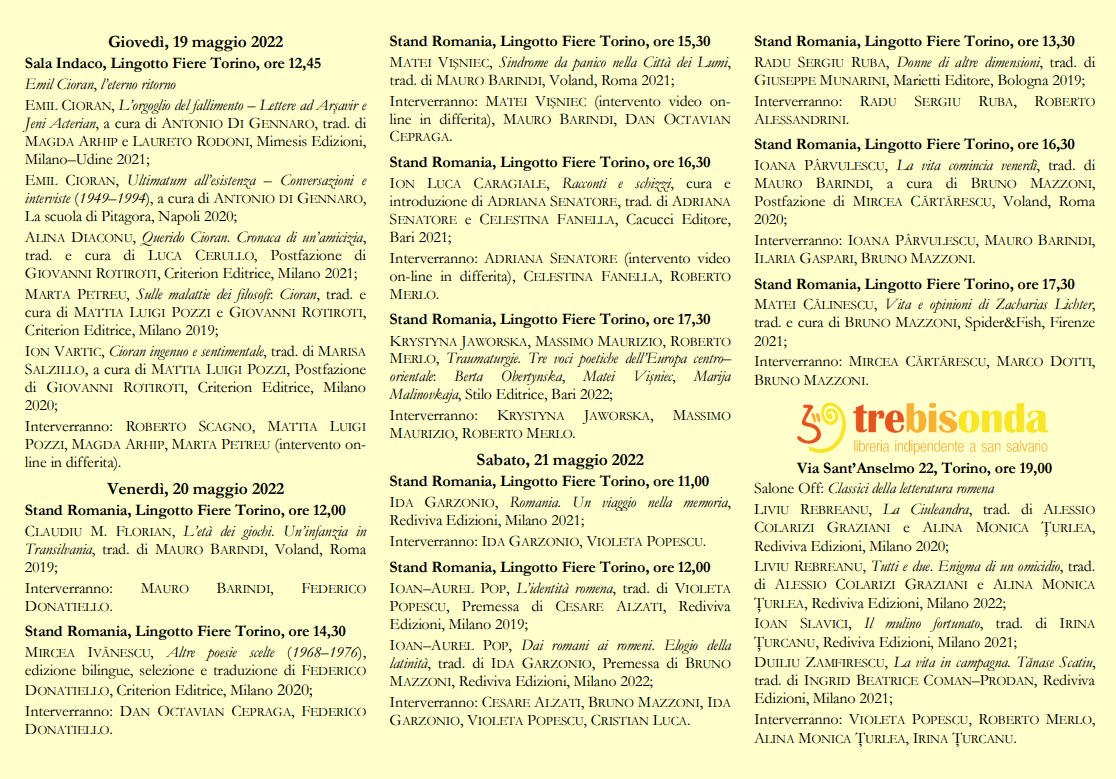 – Continue the article after the announcement –
During the five days, Romanian literary events will be attended by: Cesar Alzatti, Magda Aribe, Mauro Barindi, Mircea Certurisco, Ricardo Cavalero, Dan Octavian Cebraga, Andrea Cortellisa, Federico Donatello, Celestina Vanilla, Marco Dutti, Ida Garsonio, Ilaria, Cristina Jauresca, , Bruno Matsoni, Roberto Merlo, Adrien Niculescu, Silvia Panicchi, Ioana Parvolescu, Kotlin Pavel, Marta Petro, Iwan-Aurel Pope, Violetta Popescu, Mattia Luigi Pozzi, Vaniana Santoni, Adreto Scanion Stănescu, Victor Ieronim Stoichi, Irina Țina Țurlea and Matei Vişniec.
Organizing Romania's presence at the Turin International Book Fair is part of the strategy of the Romanian Cultural Institute and its Italian subsidiaries to promote Romanian literature and culture in Italy.
Organizers: Romanian Cultural Institute, National Center for Writers, Romanian Research Institute for Culture and Human Sciences in Venice, Accademia di Romagna in Rome.
Partners: Turin International Book Fair, Fondazione Circolo dei Lettori di Torino, Association of Turin: La città del Libro, Romanian Embassy in Italy, Consulate General of Romania in Turin, Libris Library in Braków, International Library of Luxembourg in Turin, Trabzon Library in Turin, Department Foreign Languages ​​and Literatures and World Cultures at the University of Turin and Tapita Tours.
Media partners: RTV, Radio Torino International, Radio România Cultural, Radio România Internațional, Identitatea Românească and the bilingual magazine "Orizonturi Culturale italo – române".