by Florin Karamavrov
In the following interview, the founder of the Sports Business Academy talks about the "inflation" of new stadiums in Romania, and especially in Bucharest, about the latest news in the field he represents, as well as about the wrinkled image of Dynamo.

We have stadiums and we don't have high performance teams. What should be done for these new stadiums to raise funds for depreciation and maintenance?

I think this question should have been asked before we built the stadiums. When you have the National Arena in Bucharest and it shows you Steaua, then Triumphal Arch, then Rapid and you can also hear about Dinamo, there will be a lot of structures in a very small area, paid and maintained out of public money. This means maintenance teams, management, administration etc… it will be very difficult to keep them profitable. If I were an event organiser, I would be asking for bids from all of these arenas. So instead of having one price keeping you on the profitability streak, this structure will come into direct competition with 4 other structures of the same type. What is wrong is wrong.

We wanted new stadiums, but what do we do with them now?

Let's look outside: Milan has a stadium that it uses exceptionally, for all that means events and concerts…Inter and Milan share the same stadium!! If these clubs don't even have the money to build a stadium, who? There, I think the local authorities have done their job very well. In order to maintain such a profitable structure, you have to organize a lot of events. I think with the exception of the National Stadium, the other stadiums were much better with 15-18,000 seats. Here's Steaua: They have a big stadium, but it's 90% empty for a lot of games. This match alone cannot be a recipe for the organizers.
Juventus reduced the size of the stadium!

Give me an example of a well-made stadium in Romania?

The project from Petrolul Ploiești was correct and efficient. But let me give you another example from the outside: Juventus Turin downsized the new stadium, only to pressure the ticket price. The stadium will always look full, and secondly, they increased the prices of tickets and season tickets, because the number of seats is less. They noticed that over time the number of spectators decreased, although the team achieved good results. If Steaua hasn't filled a stadium to 70% of its capacity for two or three years, its designers should ask a few questions.

So we now have inflation in the stadiums…

Yes the stadiums are inflated in direct competition to the event organizers. In the end, I see that something is also being organized on the national stage. The bottom line is that these new stadiums will not be able to make ends meet, but will become "black holes".
Recommended article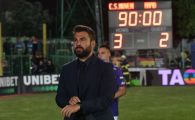 oriental story

However, with so many stadiums in Bucharest, FCSB had no place to play the tournament final! They went to Buzau…

No matter how much hatred the FCSB funder might attract or no matter how big the Steaua brand positioning battle between the Army Sports Club and the FCSB, it was a natural and civilized thing for FCSB, which many people in Romania regard as the successor to the old Steaua, to play in Bucharest . On one of the stadiums. We live an oriental story, the story of Murett.

Gigi Becali has gained this hatred over time. Now he is reaping the "fruits".

Obviously this is the case.

I read in the news you publish daily on the Sports Business Academy Facebook page that there is a lot of innovation in clubs in the West. Can you make the 3 best clubs and associations to innovate in Romania?

We don't have much innovation in Romania, at the level of clubs and sports federations. We are far from this concept. In order to get innovation, there should also be some research or innovation centers in Romania. Your question is a bit mischievous, because Romania does not shine in this field either, so you can come to the federations or clubs.
What do you copy from the outside?

Give me an example of external innovation.

Having personally experienced La Liga recently, I saw something very beautiful in Levante. Instead of completely demolishing the stadium, they reached out to designers and engineers and built a modern stadium using the old structure. There I saw two screens that I could not find anywhere in the newly built stadiums of our country. You can vote from the phone, directly on the screen, the match player, they have a system of lights, music, great sound. It may not be an innovation anymore, but it will be for us. The innovation for us will be to copy what needs to be copied from the outside and to understand that the young audience in particular wants more entertainment. It can be produced by large digital screens, by constant direct contact, and by a very good sound system.

Basically, here I answered the first question, "What can be done in the new stadiums?" …

Yes, yes, sure.

Plus events organized monthly or more often?

We have to look at the event market in Romania and we will see that it is very small as well.
"The table is no longer just for registration!"

I was thinking of organizing regular events for the club that owns that stadium…

You can watch it, you can do a lot of things, but when these stadiums were built, you had to get some software licenses on that part of the technology that would allow you to do that. Just the fact that you have a table to record the result is not important in 2022. This table should be used as a TV screen, as a digital screen for social media platforms. If you don't do it in 2022, you're already 10 years old.

George Ogaro told me that prior to the construction of the new stadium in Gencia, there was a delegation consisting of representatives from CSA Steaua, Capital City Hall, FRF, CNI and the builder at the Amsterdam Arena. I guess he should do something like that here, right?

They didn't have to do it, they had to do it. I also went to the Amsterdam Arena. We've seen some concepts borrowed from there, but time will tell if that delegation's trip you're talking about is helpful in building the stadium. At the moment, we can't find out.

How does Dynamo recover and how does it recover its image in the second league?

The correct way is to start from the fourth league from scratch. Given DDB's ability to fund the team and the efforts they put in in League One, I think they could easily move their project from League Four to League Two, for example. Much has been drawn from this topic, from all that means insolvency and debt, every week there are more and more problems. Even if they had a very good reorganization plan, the fiscal deficit that would arise would be enormous. The big sources of income had already disappeared, and television rights were essential in that reorganization plan. It will be very difficult to cover it in the second league. Plus they don't have many players to sell…
"Dynamo should take the example of petroleum, Rapid…"

What you say means bankruptcy…

That's exactly what I said. He should take the example of Petrol and Rapid. He has to accept that the only chance is to start from scratch.

Who pays the debt?

What happened in the past with other clubs will happen and will remain the responsibility of the state.

I recently saw a beautiful job, done by COSR and Ana Maria Brânz, in a secondary school in Bucharest. Do you think it will last or was it some kind of dust in the eyes?

It must be fixed in Romanian sports. I hope it continues and becomes something permanent.
LED basketball courts! Maybe in Romania too!

I also saw on the SBA's Facebook page that the FIBA ​​had approved the use of LED stadiums. Is it possible to see something like this in Romania too?

Basketball is going in a very good direction, the show is all inclusive. And the fact that they agreed that the playing surface would be LED would complement this show. It is possible to see something like this in Romania as well, so why not? For important matches and important tournaments, it will be possible to make an effort in our country as well. The technology may not be available in Romania, but it may be available for some matches. The International Basketball Federation has opened a new path related to innovation, technology and investment. They are preparing for the new generation of fans. Well, this is an innovation. It would obviously be an amazing thing. Imagine for a second that you turned into a karmic-driven earl realm.

What are we watching at Sports Business Academy this year?

We've hit the eighth edition, and the focus is on bringing the news. We will have our first Twitter workshop, the first Snapchat-related workshop in Romanian sports. We will have distinguished guests from abroad, people with experience in management, marketing and education. There will be experiences that will add value to those who work and want to become better at everything they do in the sport.

Anything you see, like last year? I mean Zambrotta, Ravanelli, Getch Morian…

We're in talks with an important name, and we'll pass it on soon.
Creativity is another missing concept in Romanian sports

You had an SBA professional talk about TikTok in sports. How are the Romanian federations and clubs going in this field?

Something from the Romanian Football Federation has entered my pass, in a project of their own that has been developed in recent years. But we're not communicating on TikTok yet, I don't think the messages are properly mapped to the audience there. You need a lot of creativity, it's very different from what we know, and you can't leave out the same strategy that you have on Facebook and Instagram. TikTok is out of the ordinary.

Is Facebook really old?

For the TikTok audience, yes.

Who is the audience for TikTok?

In my opinion, then, it is not the one that this company advertised, it is 13-18 years old. I mean, what was once Facebook.