Article by Roxana Fleşeru – Posted on Monday, June 20, 2022 8:16 pm / Updated on Tuesday, June 21, 2022 8:54 am
David Popovici (17 years old) is the world champion in the 200 meters freestyle! He became the first swimmer in Romania's history to win a gold medal in such a competition! His time was 1:43.21 minutes (a new junior world record), beating Sunwoo Hwang (19 years old, South Korea) – 1:44.47 and Tom Dean (22 years old, Great Britain) – 1:44.98.
In an article recently published in the American magazine SwimSwam, David Popovici talks about his childhood, his family, the people who supported him, and what drove him to get to this point.
David Popovici "My dad froze my photos with Michael Phelps and showed me my mistakes. Ian Thorpe redefines freestyle swimming"
Here is the full text of the article:
"My goal is to never change my mind, to never forget the most important thing: this sport is fun.
The person I am today is the sum of all the things that have been given to me by people who love me with patience and care. Besides, it's only mine.
She has been my family and always will be my rock. They created me, shaped my way of thinking, seeing the world, and also my approach to sport. My mom, dad and Adrian, my coach, are the adults I have learned the most from and we can also include my brother, who is eight years older than me, on this list of life teachers.
I may have started from the end, to tell you about me, but the truth is that no story starts from the beginning, and even when we are born, we are already in the middle of something.
Anyway, at least I didn't get off without explaining myself first.
I was born and raised in Bucharest, the capital of Romania, a city of nearly 3 million people – three out of the 19 million people across the country. It's a big, lively city, and it was my starting point for the whole world.
I was an active kid – very active. And I know a lot of people say that, especially those who later became athletic, but I've always been on the move. I never wanted toys, cars, or video games: it was enough to let me play with stones and sticks and whatever I found in parks and gardens to make me happy. For example, I loved playing with cockroaches. My eyes have always been focused on capturing new stimuli, in constant search to discover how the world is made up, starting with the parts it is made of.
Always on the move, always awake, my mother took me to the park in a pram and closed my eyes for half an hour. And by that, I mean exactly 30 minutes. While the other kids slept for hours, I felt a biological alarm, as if the days were too good to be wasted. There are still many things to discover.
Even today, despite my training, my studies and my life, I cannot rest in the afternoon. I try, but I sleep at most 2 minutes before I feel the need to start doing something else. For some time now, I've been finding a way to get my energy back. I turn off the light, turn off the phone, close my eyes and relax. I don't sleep, but I use this time for myself – a type of meditation in which I find the strength to face the rest of the day.
That's why I started swimming.
My parents decided to take me to the pool, the same thing I'm training in today, to burn off some of that energy – or at least channel it – and also to treat scoliosis.
With water, it was love at first sight. a point. I remember every moment of my first swimming lesson. I remember feeling in the right place – like a fish. Trivial, good, but true. I am weak and have long arms and large hands. In the water, my lean body found confidence that is hard to find at that age for people like me.
From that day forward, water was not only the place where I felt contented, but also the factory where I could build my dreams, and I could feed my passions.
I spent my time not swimming following swimming myths. Every morning when I was freeing up from school, I would run into the living room as soon as I got up and watch the 2008 Beijing races on TV: Michael Phelps in all his glory. I studied his movements and my dad froze the picture to show me the mistakes I was making in the water, to explain that there were only so many hours of training between me and this beast.
I watched those videos until I memorized them. I've been watching them for at least five straight years, 7 to 12, and if it were DVDs instead of YouTube videos, I'd say I've already consumed them. Then, starting the following year, the morning was not free, because I started swimming twice a day. It was very difficult for me to get up early – I did not understand why I had to swim at 5:00 in the morning. My eating habits did not ease the situation. I used to have breakfast two hours before swimming. And training at 5:00 means sitting at the table at 3:00 in the morning. There wasn't a single time my parents didn't bring breakfast, which showed me endless love and great respect for my dreams.
At the age of thirteen, it is difficult to see beyond the daily effort, to know the importance of each brick that builds a strong future. Just like my swimming style. Of course, this is largely normal; My instinct is for me to swim a certain way, but I worked hard and still do with my coach.
The hours and hours he spent in every detail. Adrien and I talk so much about swimming, we can spend days talking about past methods and myths, without getting bored for a second. According to many, the way he swims has something to do with Ian Thorpe's style.
This technique was undoubtedly an inspiration to me. After 20 years, I'm free to swim like this.
And I say "free" because he was the first to try to somehow rethink freestyle. He risked changing the rules of a sport that people, at the dawn of the new millennium, thought they already knew everything. Very long and long movements and patience to wait for the body to complete the sliding stage. It's hard to be patient while swimming for 100 or 200 metres, but the water is what it takes and we have to listen.
If a couple of years ago I was told that that kid who can't sleep in the afternoon would be in the Olympics call-room next to champions like Caeleb Dressel or Kyle Chalmers, I'd probably say you're crazy or it was just a dream.
I would have felt like a little ant, or rather a beetle like the one I played with as a child.
But a few months ago, this really happened. I was in the communication room at the Tokyo Olympics, and my thoughts somehow struck me: I watched them on TV so they could learn them by heart. But I'm here too and I'm a giant too. You won this place, and the Olympics teach you that everyone has a chance."
I had a great time in Tokyo and I wholeheartedly hope to participate in many more editions, because the Olympics is something else. A different world where you can have lunch or a bus next to your opponents. The Olympic Games are the true essence of this sport. And that's why I never want to forget how much fun I have – how much I enjoy doing what I do.
During the second 50m of my 100m freestyle swim, I woke up talking in the water. Not in my head, but in the water – or maybe I was talking to the water.
Every two-stroke I said, "Damn, I love that."
David Popovici is the ultimate swimming king: the world champion in the 200m freestyle! Fourth time in history
David Popovici respected his place as a big favorite at the World Swimming Championships in Budapest. British commentators felt the triumph of the new global swimming phenomenon: "I didn't think I had feelings about the world records in the 100 and 200 meters freestyle. Now, with David, we have it!"
David Popovici, for the fourth time in the event's history
David Popovici's successful time in Budapest is the fourth in the history of the 200-meter freestyle. Only world record holder Paul Biederman, legendary Michael Phelps and Yannick Agniel in front of him. Popovici's performance is the best in the last decade.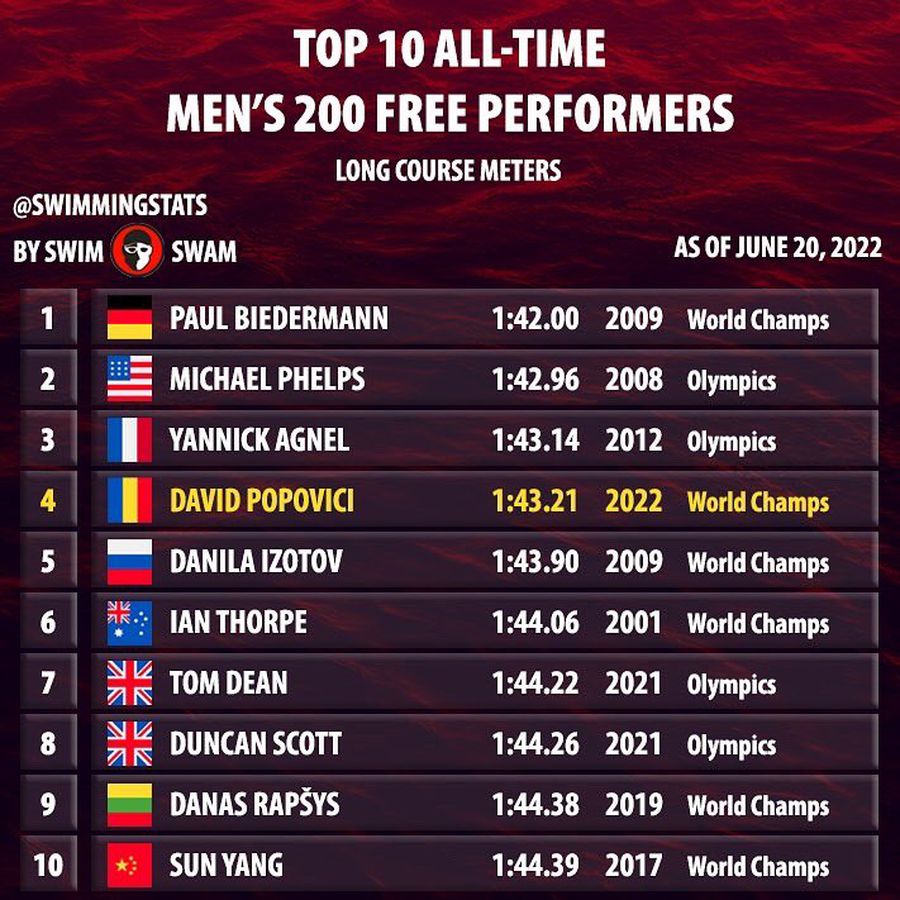 David Popovici, world champion in the 200 meters freestyle
The legitimate athlete at CS Dinamo finished second in the middle of the race, but the situation was under control. He increased his pace in an incredible way and won a long distance ahead of Sono Hwang (South Korea) and Tom Dean (Great Britain).
"People at home believed in me! The medal is theirs. Now I will recover and be ready for the 100m," This was David Popovici's first reaction after the Budapest Gold Conquest.
Final standings of the 200m freestyle
Read other Romanian sports news:
PHOTO men's national volleyball team promoted to the Golden League »Holiday« Tricolor in Budapest »
The final match that Halep and Kirst missed in Birmingham lasted only 37 minutes! »Until the last double action is not played