Due to the increased fees for part-time work, many companies have decided to close some contracts. According to a survey conducted by Romania's National Council for Small and Medium Private Enterprises (CNIPMMR), 59.7% of survey respondents said they would lay off part-time employees.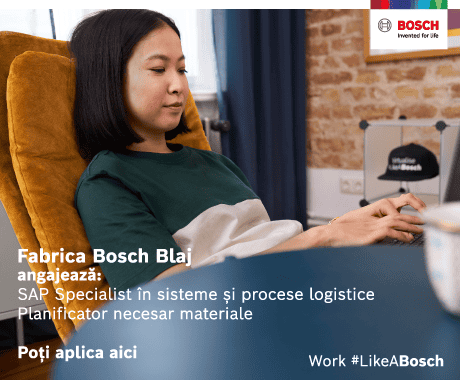 CNIPMMR conducted a consultation in the form of a survey conducted through Google Forms between July 25-28. 1179 respondents from all four categories of institutions that make up the SME sector participated in the survey, in accordance with the provisions of Law No. 346/2004 respectively:
a) small enterprises – up to 9 employees and annual net turnover or total assets of up to €2 million, which is lei equivalent;
b) small businesses – between 10 and 49 employees and have annual net sales or total assets of up to €10 million, which is lei equivalent;
c) Medium enterprises – between 50 and 249 employees and annual net sales of up to 50 million euros, which is lei equivalent, or total assets not exceeding 43 million euros.
Besides the companies mentioned in points (a), (b) and c) representatives of large companies, NGOs, PFA and medical offices participated in the analysis.
When asked how they would be affected by the change in the tax system for micro-enterprises by lowering the ceiling from 1 million euros to 500,000 euros, 35.8% of respondents indicated a large, 26.8% to a small extent, while 37.4% of those surveyed stated that they were not affected .
When asked if they would prefer to apply the tax rate of 3% of income to all micro-enterprises regardless of the number of employees rather than lowering the ceiling for micro-enterprises, 54.2% answered in the affirmative, while 45.8% refused and preferred this alternative.
When asked how much they would be affected by the change in the public finance law regarding the obligation to hire someone to classify it as a small business, 37.4% of respondents answered that they were not affected at all, 15.2% to a small extent, and 47.4% to a significant extent.
When asked if they only have part-time employees in the company, classified at the minimum wage level, 45.3% of respondents answered that they have no part-time employees with minimum wages, and 47.4% have between 1 and 4 employees.
in continuity, The respondents indicated what measures they would adopt as a result of the change in the tax system for part-time employees (payment of contributions at the level of the 8-hour minimum wage), As shown in the figure below.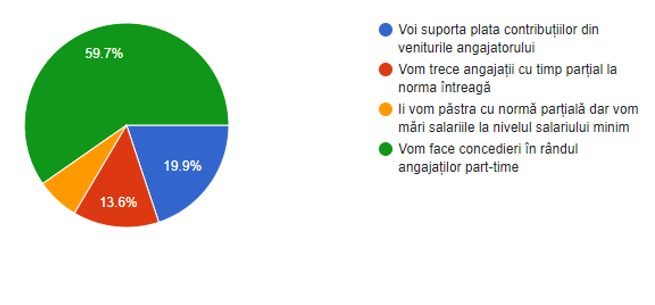 47.7% of respondents confirmed that they would lay off workers, announced that they would lay off all part-time employees, 26.1% would lay off one employee, and 22.5% would lay off between 2 and 5 employees.
The survey participants in the HORECA area confirmed that due to the amendment of the Public Finance Act, after January 1, 2023, they will choose to pay the 54% tax on small business income and pay the profit. The tax is 46%.
As a result of increasing the dividend tax from 5% to 8%, the share of 55.5% of respondents will apply both measures, 28.3% of them will reinvest the profits to benefit from the exemptions stipulated in the Public Finance Law, and 16.2% will be paid dividends with the application of an 8% tax .
Granting tax exemption on reinvested profits will cause 41.9% of participants to reinvest profits the same amount as the previous year, 38.2% of them will increase the percentage of profit allocated to investments, and 19.9% ​​will reinvest the entire profit.
As a result of increasing the tax on buildings compared to the notary network, 47.6% of entrepreneurs indicated that they would not take any action, 30.9% would reduce their investment to pay the tax, and 12.6% would move to a smaller office. Build and 8.9% will sell the property they own.
When asked about the fairness of introducing a "solidarity tax" for companies with a turnover of 100 million euros in light of the tax increase for small and medium-sized businesses, 71% of entrepreneurs considered it fair, compared to 29% of them gave an unfavorable response regarding this charge.
In the current context, respondents believe that the government should take the following measures to increase the revenues of the state budget:
Reducing budget expenditures by reducing the budget apparatus – 87.40%
– Cancellation of special pensions – 76.60%
Increased collection efficiency by digitizing ANAF – 70.70%
tax evasion reduction – 74.90%;
Make public investment in the real economy 68.10%
Source: cnipmmr.ro
Be aware of the latest news. Follow Alba24.ro and on Google News
---
If you liked the article and want to know what we write:

---
your news – If you are witnessing special events, take pictures, photograph and send them to Alba24 via Facebook, WhatsApp or via the online form.