The summer of 2022 for Romania in powerlifting is an interesting period in the balance sheet, in the sense that customs assume a competitive year for such a quantification of results and for the announcement of big goals.
The past few years have, no doubt, been so synonymous with the true performance of the sport that the level of expectation regarding any international competition puts pressure on our representatives. After the impressive results achieved in Hungary, in the European Punch Press Championship, comes after the World Junior Weightlifting Championships organized in Istanbul, where the chances of getting medals by all Romanian athletes are great even if it is a competition with more than 500 competitors. from more than 40 countries. In addition to all these aspects, it is important to note that Romanian sports management in this field tends to become an example of good practice for the International Weightlifting Federation.
In Budapest (the venue was not chosen by chance, being a form of recognition of the Hungarian contribution to the development of this sport), apart from the competition itself, 50 years of IPF existence, 50 years of outstanding results were marked. On the occasion of this event, Ovidiu Pănăzan, President of the Romanian Weightlifting Federation, was once again honored for his work, determination and especially for his ability to promote high-performance sports on a continental level through specific means. The anniversary album, which was printed on the occasion and presented to Romania, managed to capture tens of thousands of athletes involved in an international sports movement in an interesting way from 50 years of history. This moment marks 50 years of the creation of the International Weightlifting Federation, and thus 13 years of Romanian contribution to writing the story of a sport included in the selected exhibition of representative sports for more than 100 countries of the world.
"We would like to thank Mr. President Gaston Barrage for appreciating Romanian efforts and professionalismOvidiu Pănăzan has been transferred.
For Romania, the next major international competition will be the World Junior Weightlifting Championships, in Istanbul (August 26 – September 4). The tricolor delegation consists of Paul Pignario, Maria Bordoff (CS Universitatea Alba Iulia), Alexandra Kazako and Virginia Mirza (CS Unirea Alba Iulia), Christian Moyes and André Georgescu (Ploiste Irons Team).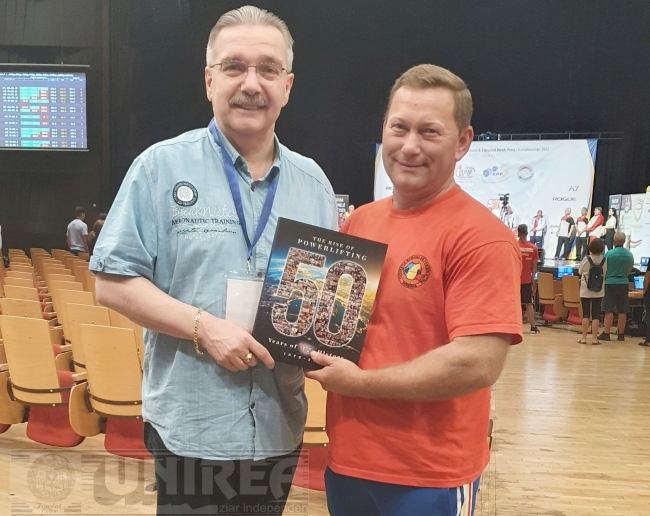 "Expectations are generally high in the context in which Romania in the past five to six years has been able to be considered a favored country for medals in major competitions. The support of all who understand the great performance is important to us, and in this context the new partnership between the Romanian Weightlifting Federation and Alba Iulia City Council, the local council is an aspect of our pleasure and for which we publicly express our gratitude. I would like, once again, to thank everyone who understands that high-performance sports is not a play on words or a skit for usThe head of the delegation, Ovidio Bonazan, relayed.
In the Hungarian capital, the European Weightlifting Championships were held to test the pressure, with Budapest being the host of the strongest tournament, with more than 700 athletes, coming from 28 European countries, most of whom have a long-standing tradition of achieving excellence. offers. Romania participated with 8 athletes from clubs Alba Iulia, Cluj-Napoca, Oradea and Ploiesti as follows: Lucien Oyo, Master 2, Cat. 120 kg (CS Unirea Alba Iulia); Pietro Borbeli Coropan, master 4, cat. 105 kg (Cluj-Napoca Crusaders); Soren Kazaku, master 1, cat. 120 kg (CS Alba Iulia University); Silviu Popșa, old, cat +12 0 kg (CS Alba Iulia University); Ionuț Lupaş, older, cat. +120 kg Justinian Popa, master 1 cat +120 kg (Creole of Oradea), Andrei Kalyani (Iron Ploiesti team). 3 medals were obtained in Masters, 4th and 5th place in Seniors
"Besides the very good results we got back from Budapest, where weightlifting is respected and considered one of the most representative sports in the national context, Romania has once again proven that it deserves its place among the strongest countries at the continental level. In this way I would like to thank all those who have understood over time how important it is for athletes to benefit from the best training conditions, how important it is to know that performance is not a miracle but the result of a strategy, how indispensable it is to support communities in achieving a great result. In this context, I would like to thank: prof.univ.dr. Daniel Breeze, President of the University of Alba Iulia "December 1, 1918", Bogdan Dumas, Director of Computer Science at the University of Alba Iulia, Daniela Moenig, Director of Computer Science at Unirea Alba Iulia, and last but not least, the City and Local Council of Alba Iulia, for the way they understood Weight lifting support", through a press release, conveyed to Albaiulian Ovidiu Pănăzan.
Latest news published in Ziarul Unirea