The Art History Society, with the support of partners and donors, organized in June several events dedicated to honoring the memory of one of the greatest figures of Roman architecture, Paul Smorandescu (1881-1945).
Today, on the occasion of the Feast of Saint Peter and Paul, we also remember Paul Smărandescu, born on June 26, 1881. During the month of June, the Art History Society organized a series of events aimed at making him known and even better active and personal.
On Thursday, June 9, the presentation "Archives of Architecture: Paul Smărandescu 140" was presented at the House of Culture "Friedrich Schiller", with the support of Dr. Oana Marache, art historian, researcher and president of the Art History Association.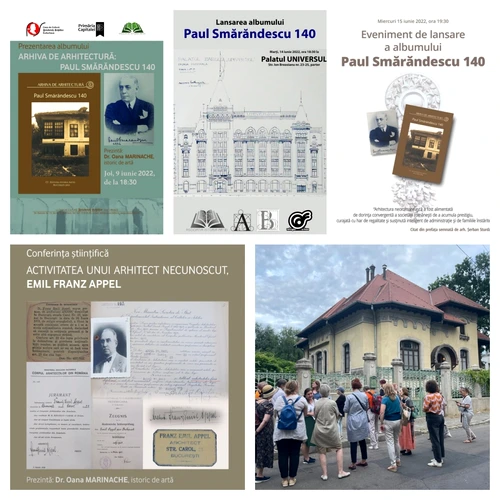 Saturday, June 11, we walked down Romulus Street, after more than two years of digging through the archives for real estate history, architects, and builders. This was the first event of the year dedicated to this very long, story-lined street, highlighting the construction on the odd side. In the fall, we will continue our guided tour series, completing the walk and real estate stories from even numbers, and ArhiTur's collection of publications will be enriched with a new print edition. On Romulus Street, it is also the former property of banker Panayte Ionescu, designed by architect Paul Smărandescu in 1911-1912 and perfectly restored by architect Urban Stordza in the 2000s.
On Tuesday, June 14, the album launch event, published by Istoria Artei in 2021, took place: Archives Architecture Paul Smărandescu 140. Our host was the Refugiu Urban space on the ground floor of the Universul Palace, designed by Smărandescu in the period 1926-1928. The public event was followed by a private presentation, organized the next day, in one of the antebellum residences in the Smărandescu purse.
On Thursday, June 16, also at the House of Culture "Friedrich Schiller" we learned more about "the activity of the little-known architect Franz Emil Abel". Born on June 18/30, 1878, into a German family settled in Bucharest, he carried out a rich professional activity in design and entrepreneurship. Beginning in 1912, he was hired by Mihail Hartel at Hartel & co. , during which he realized many works designed by the architect Paul Smărădescu, including his residence in Bucharest, located on Luterană Street.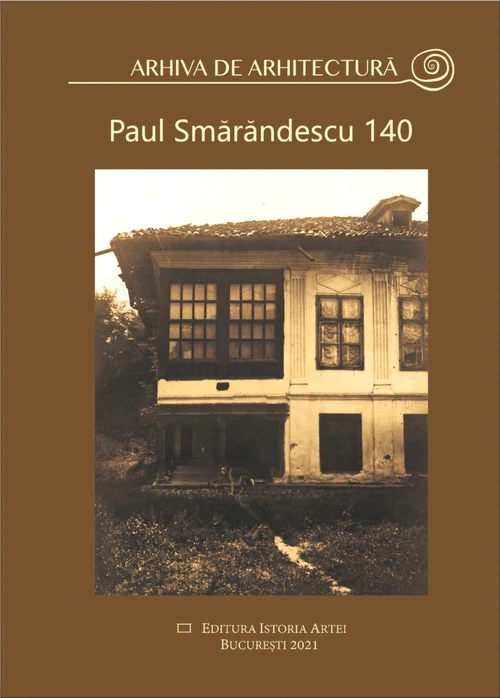 Design: Christian Oprah (Melik House, restored by Arch. P. Smărandescu in 1920)
Paul Smărandescu . Photography Archive
The new album dedicated to the archive of architect Paul Smărandescu appeared on the occasion of the 140th anniversary of his birth and is the seventh in the "Archive of Architecture" collection of Istoria Artei publishing house. It was also included in a series of publications dedicated to his activism, following a special edition of the cultural publication ArchiTur no. 1/2020 (genealogical study, family homes, public and private buildings in Bucharest presented in chronological order) and Archives of Architecture: Paul Smărandescu 75 (a selection of photographs, plans, drawings, sketches, letters and personal unpublished documents).
On the occasion of visiting the "Ion Mincu" University Library of Architecture and Urbanism, jointly organized with members of our association, to celebrate National Culture Day (15 January 2021), I had the opportunity to discover some of the albums and specialized publications donated by de Smărandescu, who was a professor (1920 -1942) and Dean (1938-1940) of this institution. Today the library has in its collection 141 titles belonging to Smărandescu, of Romanian and foreign articles, pamphlets, illustrated journals, monographs and letters (see Library Information Bulletin, No. 15/2018).
Three albums in particular caught our attention, those with photographs, some of which were taken during the travels undertaken by Smărandescu himself during the interwar period. The first two contain 50 panels, the third 51 panels on which the architect has pasted one or more pictures. The fourth album 499 (formerly known as 193-4 in the Smărandescu group) is dated 1924–25–1926 and contains photographic documents relating to Căldăruşani, Hurezi, Pietroşita, Topolniţa, Sofia Floreasca, Coltea, and Sf. Gheorghe vechi, Văcăreşti, Căluiu, Preajba, Ogretin, Vărbila, Pasărea, Cornetu, Bran, Sălişte, Sighişoara, Deva, Maramureş as well as a series of Armenian church versions. A single collage of his own drawings, for some traditional fireplaces, adorns the third cover of this album.
Album IV 500 began on August 16, 1929 and refers to Metropolitan Bucharest, Coltia, Stavropolius, Biserica cu sfinti, Cotroceni, Antim, Văcăreşti, Săftica, Fundeni, Ploiesti, Tîrgovişte, Mănăăstirea, Dealu, Armiceâştim, Cozia, with some examples Oriental Houses and Old Bucharest Houses.
The fourth album 501 (formerly known as 193-5 in the Smărandescu collection) brings together Moldavian monuments such as the Three Holy Priests from Iaşi, Popăuţi, Hîrlău, Galata, Cetăţuia, Neamţ, Suceava, Dragomirna and Zamca, along with some from Bucharest ( Coltia and Bucur) and Râmnicu Salted. Examples of columns with capitals (vernacular architecture), icons, pieces of church furniture, and decorative elements studied by Smărandescu also found their place here.
We doubt his intention, announced by the poster on the spine (Roman-style documents), to create a visual atlas by combining visual testimonies of the most important medieval historical monuments in Wallachia, Moldova and Transylvania barely incorporated into the Kingdom of Romania. It is assumed that some of the photos came from the archives of the Historic Antiquities Authority, and are taken to document and document publications by its historians and architects. Smărandescu presents them all on plates in the form of complexes, even making notes about the place and date of his visit or indicating the source of the inscription.
Besides the fact that it allows us to better understand the preoccupations of the architect who created the new Roman style and to know his sources of inspiration, we considered it important to publish this visual atlas, useful and interesting for fans of ancient photography. For lovers of historical heritage. As rare as these photographic archives of the history of Roman architecture, they immortalize goals before major restorations or alterations, and play a documentary role, we are grateful to those who cared to achieve and preserve them for future generations.
We thank Ms. Phil. Dr. Bible Cosmina Grafu (Director of Information Documentation Department) and specialists of the "Ion Mincu" University Library of Architecture and Urbanism to obtain permission to search and reproduce albums donated by architect Paul Smărandescu.
With gratitude to Mrs. Adela Vîrgolici for the support given to restoration and restoration projects and the history of architecture, which commemorates architect Paul Smărăndescu.
Technical information:
Texts for art historian d. Una Marinac and Architect Zurban Stordza
A4, inside black and white photos, 96 pages
Graphic design: Christian Oprah